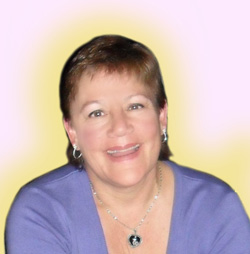 Terri Oberto is a State Certified Clinical Nutritional Consultant, Biofeedback Consultant, Personal Trainer, Phytotherapist, Certified Eat Right 4 Your Type Practitioner (B-524), member of the American Holistic Health Association and member of NANP (National Association of Nutrition Professionals) Lic. #21031. She holds a Bachelors Degree in Nutrition, and is currently working on her Masters in Nutrition from the University of Naturopathic Medicine at Santa Fe, New Mexico.
Terri is also a graduate of and former teacher at the Bauman College (formerly Institute of Educational Therapy) in Santa Cruz, California.
For the past 15+ years, Terri has been seeing clients with a variety of issues - weight management, digestive problems, allergies, blood sugar imbalance, anorexia, compulsive obsessive disorder, cardio-vascular, hormone replacement therapy, auto-immune and cancer (e.g. prostate, lung, breast, colon, ovarian, etc.).
Specializing in cancer, Terri is continuing her research on the role of diet, nutrition and lifestyle for added support of conventional treatment of cancer.