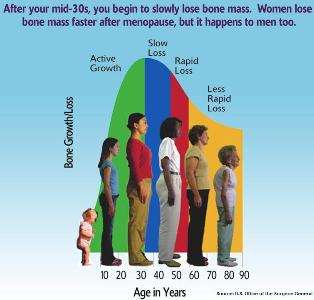 10 million Americans have osteoporosis
34 million Americans have low bone mass
66 million people have joint related issues
Teenage youth are at risk of osteoporosis
Athletes, mothers, older men and women also
THE FACTS
• Nikken
OsteoDenx
is a unique preparation because it supports both aspects of bone health —
the absorption of vital mineral compounds, and the formation of new, strong bone tissue.
• Bone has two functions. One is to serve as the support framework for the body, offer protection and provide mobility.
The other, equally important, is that bones are a chemical storehouse and a factory for producing cells that enable systemic processes.
• The skeletal structure is a reservoir for 99% of the body's calcium and releases amounts of this vital element to assist in heart,
muscle and nerve function.
• Physical activity helps to preserve and build up bone mass, yet most of us do not regularly manage to get as much exercise as we
need, which could have an impact on bone regeneration.
• Being overweight or obese also may have a negative effect on bony tissue, subjecting it to excess strain.
Even a few pounds overweight can impose additional stress on the skeleton.
• Supplements can supply amounts of calcium and phosphorus, necessary for bone replenishment.
But much of the ingested minerals will be excreted.
• OsteoDenx is the only product that includes a targeted transport system to convey vital minerals (from supplements and food)
to the site of absorption, the synovium (joint area). This offers increased bioavailability, so that more of these ingredients will be assimilated by bone tissue.
• OsteoDenx promotes the optimal balance of these materials within bones and joints to help maintain bone density and also support the structure and integrity of bone cartilage.
• The source of OsteoDenx is natural, not genetically modified, and from a region isolated from sources of contamination.
This source material is then subjected to the extensive purification technology to produce OsteoDenx.
Each Capsule Contains:
Medicinal Ingredients:
Vitamin D3 (cholecalciferol) 10 mcg
Folate 400 mcg
Zinc (oxide) 15 mg
Lactoferrin (cow's milk, Bos spp.) 105 mg
Hyaluronic acid (sodium hyaluronate) 5 mg
Bromelain (pineapple fruit, Ananas comosus) 15 mg
Glucosamine HCl (vegan) 100 mg
Chondroitin sulfate 100 mg
(chondroitin sulfate A from chicken)
Curcumin (turmeric root, Curcuma longa) 25 mg
Non-medicinal Ingredients: vegetable capsule (hypromellose,
titanium dioxide), sodium bicarbonate, citric acid, magnesium
stearate, silicon dioxide.
If you are interested in finding out more, please contact us.